Skip to main content
What is a Mommy Makeover?
While carrying and breastfeeding your child are one of the most incredible experiences a mother can have, it takes a toll on your body. Even long after you have given birth, your body may not be able to return to its pre-pregnancy condition. Stretch marks, loose abdominal muscles, skin laxity, and sagging breasts combine to leave you with a figure that you no longer recognize when you look in the mirror.
A mommy makeover is a combination of procedures designed to allow you to reclaim your body after giving birth. Our mommy makeover in Denver performed here at Colorado Plastic Surgery Center is designed to reshape contours, remove excess saggy skin, restore breast shape and volume and rejuvenate the body to its pre-pregnancy conditions.
The mommy makeover typically includes the following procedures:
However, it is also possible to complete the procedures in stages at different times. The Tummy tuck tightens the abdominal wall muscles that have been stretched to accommodate your growing baby during pregnancy. A Tummy tuck is also the only way to get rid of excess skin that you may have in the abdominal area as a result of your skin expanding during pregnancy, as well as the only method to remove stretch marks that may have also developed during pregnancy.
What Should I Expect During my Mommy Makeover?
Each mommy makeover is a combination of procedures as unique as you are. Dr. Slenkovich will work closely with you to determine which procedures will allow you to meet your post-surgical aesthetic goals.
Your mommy makeover will be performed in our state-of-the-art surgical center in Denver, where we adhere to stringent safety and health protocols and use the most advanced equipment and technology.
A mommy makeover is typically performed with the patient under general anesthesia. The duration of your surgery will be determined by the number and type of procedures you decide to undergo as part of your mommy makeover.
Before & Afters
View All
What is the Recovery from a Mommy Makeover Like?
Since each mommy makeover is uniquely tailored to the individual, the recovery from the procedures will vary from patient to patient.
You should plan to have at least a few weeks to rest and heal after your mommy makeover before you return to your normal activities, but you may need as long as six weeks to really feel like yourself.
You can expect to have some swelling, bruising, and soreness if your makeover included breast augmentation or a tummy tuck. Pain medication can help you through the early stages, so you are as comfortable as possible. You must avoid strenuous activities, lifting, or stretching for approximately six weeks following your procedures.
More About a Mommy Makeover
The confidence boost that a mommy makeover in Denver provides to a Mom's self esteem is immeasurable. We all know the miracle of childbirth brings with it a lot of changes. But now mothers can get their bodies back into shape and confidently enjoy the active lifestyle their children demand.
Although a tummy tuck is a main part of a Mommy Makeover, to fully rejuvenate a woman's body post pregnancy, a breast enhancement procedure is often a necessary as well. The breast enhancement could be a breast lift, breast augmentation with implants or both procedures to restore the volume and shape of your breasts that breastfeed and pregnancy have changed.
Often, liposuction may be used solely or in combination with the above procedures to give Mom the firm look that her body had before the baby.
Dr. Nick Slenkovich is one of the top plastic surgeons in Denver, Colorado. He is double board certified - in plastic surgery by the American Board of Plastic Surgery (ABPS), and also in Ear, Nose and Throat Surgery by the American Board of Otolaryngology.
When it comes to mommy makeover surgical procedures, rest assured that you can trust Dr. Nick's experience and expertise.
Frequently Asked Questions
Am I a candidate for a mommy makeover?
If you are experiencing loose, sagging breasts, loose skin, stubborn pockets of fat that will not respond to diet or exercise, or your lower abdomen is marred with stretch marks, you may be an excellent candidate for a mommy makeover. Any woman who is ready to restore her pre-pregnancy body can benefit from a mommy makeover.
Dr. Slenkovich would be happy to discuss your vision for your mommy makeover and advise you on the procedures that will set you on the path to loving your body once more.
What procedures are included in a mommy makeover?
A mommy makeover is a unique package of procedures tailored to your specific vision for body contouring. A mommy makeover may include any of the following procedures:
Breast augmentation
Breast lift
Liposuction
Abdominoplasty or tummy tuck
Stretch mark repair
In addition, you may choose to add various facial procedures for a comprehensive rejuvenation, from head to toe.
What is the cost of a mommy makeover?
It is important to remember that the cost of a mommy makeover can vary greatly depending on where you live, the number and type of procedures you choose to include, and your surgeon. It is safe to estimate that most mommy makeovers will come in at between $9,000 and $20,000. Only a private consultation will reveal what procedures are needed in your case.
Can I have a mommy makeover if I have not yet had children?
Absolutely! The term "mommy makeover" generally refers to a combination of procedures designed to treat the impact of pregnancy and breastfeeding on a woman's body. As you go through life, weight changes are very common. These changes can lead to sagging breasts, loose skin and tissue at your midsection, stubborn pockets of fat or stretch marks. It is not rare for these problems to affect a woman's body, even if she hasn't experienced pregnancy.
There is never a wrong time to take advantage of modern surgical treatments to re-sculpt, reshape, and create the firm, fit, sculpted figure you envision – and restores your confidence in your body image.
Will health insurance cover my mommy makeover?
While your health insurance may in some rare cases cover some portion of a mommy makeover, most of the procedures included are considered to be elective and will, therefore, not be covered.
Our staff is extremely familiar with working with insurance companies and will assist with these questions.
Why should I choose Colorado Plastic Surgery for my mommy makeover?
Dr. Nick Slenkovich is a leading plastic surgeon with more than a decade of experience in performing mommy makeovers.
He has a warm, caring demeanor that will set you at ease, and he has a five-star rating on realself.com. Known as a premier plastic surgeon in Colorado, Dr. Slenkovich possesses the surgical prowess and artistry needed to achieve beautiful results. We invite you to discover our private plastic surgery practice in Denver where you can achieve total body rejuvenation.
I wanted to thank you for my mommy package surgery. I have received many compliments on how natural my breasts look. Even though many people gave me compliments, I could not appreciate the total transformation until I saw the pictures taken afterward. As women, we tend to have a poor self image, the photographs help to reinforce the transformation. Between you and your staff, my self esteem has increased greatly and has helped both personally & professionally.
Just wanted to say thanks for the great job you did for Darcy. Her self esteem & confidence is ten times what is was. Again many thanks.
Many of our Denver mommy makeover patients are mothers, just like Darcy, who are looking to get their pre-baby figures back. View our Mommy Makeover photo gallery to view patients, and mothers, just like you who have regained their per-pregnancy body.
To further pamper Mom, we highly recommend one of our facial rejuvenation packages to finish off your new look. Ask about scheduling your appointment with our licensed Aesthetician after you've recovered from your procedures to give your skin back that young glow!
How Much Does a Mommy Makeover Cost?
Dr. Slenkovich performs very personalized mommy makeovers in order to meet or exceed his patient's goals. Because a "mommy makeover" can include a number of individual procedures (a tummy tuck, liposuction, and/or a breast lift), costs will naturally vary from patient to patient as not all patients require the same treatment. The final cost of a mommy makeover will depend on your own goals, the condition that your skin is in and how long your surgery will take, We can provide an exact price for you following a quick personal consultation.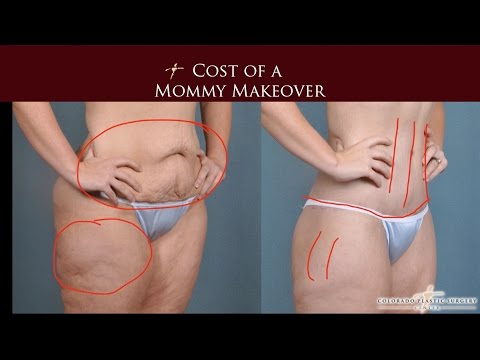 Call us today to schedule a personal, one-on-one consultation with Dr. Nick Slenkovich. Make sure to let us know that your are interested in our total body Mommy Makeover!
Any time your body experiences weight gain or weight loss, some stretching and laxity occurs to the skin, tissue and muscles. Luckily, Dr. Nick Slenkovich is here to help. As a father himself, he understands the demands of childbirth can put on a woman's body. He is dedicated to helping mothers regain their pre-pregnancy body contours through individualized combinations of advanced plastic surgery treatments.
At Colorado Plastic Surgery Center's beautifully appointed Denver cosmetic surgery facility, all Mommy Makeover patients are treated with the deepest respect and understanding. This approach greatly reduces patients' anxiety and promotes highly rewarding treatment results and arguably the best mommy makoever Denver has to offer.
If you are considering cosmetic surgery to improve your physical appearance and self image, we invite you to schedule a consultation with our double board certified plastic surgeon, Dr. Nick Slenkovich.
Dedicated to your comfort from your first visit to your final follow-up, the surgeon and staff of Colorado Plastic Surgery Center will always treat you with kindness and caring.
(720) 594-5634
Colorado Plastic Surgery
761 Southpark Dr Littleton, CO 80120